Ohio State Championship Powerlifting Meet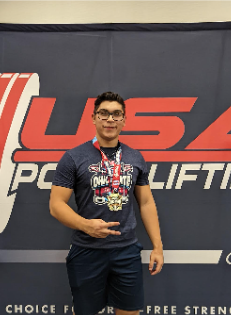 Ohio State Championship Powerlifting Meet
On Saturday May 28, I competed at my first powerlifting meet, the Ohio State Championships at the Greater Columbus Convention Center in Columbus, Ohio. The meet was run by the United States Powerlifting Federation (USAPL). 
The sport of powerlifting consists of three main movements: the squat, bench press, and deadlift respectively. Each lifter is given three opportunities to lift, also known as 'attempts.' Three attempts per movement, nine attempts total. Before I competed, I had to weigh in as each lifter is put into a weight class, and even age groups if you are young/old enough. I competed under the 100 kilogram (220 pound) weight class, weighing in at 96 kilograms or 211 pounds. 
Once all the preliminary requirements have been taken care of, check ins, equipment check etc. I began to warm up for the squat. Warming up I felt at home, there was a sense of belonging even though I was in an unfamiliar place, with people I have never seen before. My coach, George Sdregas, is the vice president of the OSU powerlifting club. George has been my coach throughout prep and was there to help me out at the meet. He made sure I took the right weight at the right time while I was warming up. Once it was my turn for my first squat, I was extremely nervous, but at the same time, I felt like this was just another squat. As I was walking towards the platform I could not feel the pressure on my legs like anyone does when they walk, my consciousness was moving, but my legs did not feel anything at all; this was due to pure adrenaline. I went on to successfully complete all three of my squat attempts, ending on a 220kg or a 485 pound squat for the day. As I was walking off the stage only one phrase was going through my mind, 'time to bench'. 
While I was warming up on the bench press, everything felt like it was falling perfectly into place. For the last few weeks of prep, I had some slight pain in my shoulders, but that day there was absolutely no pain. The same level of confidence I had experienced on squats carried over to the bench, I went on to successfully make all three bench attempts with a final attempt of 127.5kg or 281 pounds. I would have liked to add a little more weight for that last attempt, but my coach wanted to save some energy for the last lift of the day, deadlifts. 
Warming up for deadlifts did not feel exceptional nor did it feel bad, it just felt like any other day, contrary to squats and the bench press. Right before I would go up to make my first attempt my coach pulled me aside to apply our secret weapon, baby powder. This is commonly used by lifters to reduce drag as the bar goes up the lifter's legs. For my second attempt, I completed 225kg or 496 pounds but missed my third and final attempt at 242.5kg or 535 pounds which would have qualified me for nationals. Overall, I totalled 572.5 kg or 1262 pounds to win my age group and weight class making me a state champion and ranking me top 10 overall in the country.