Best in Class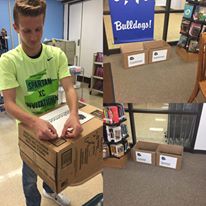 Attention all freshmen, sophomores, juniors, and seniors! The student council will be conducting a canned food drive from 9/30/16 through 10/14/16. Drop off all canned goods in the library or home football games in front of the dog pound in your grade's designated box. The class that donates the most cans will be rewarded with a dress down day. All cans collected will be donated to the Poland food Pantry. Make sure to help donate some cans and win a dress down day! An announcement will be made on Thursday, October 13 announcing the winning class.
Jason Rapp, a sophomore on the cross country and track team, reflected on his personal experience with the canned food drive last year.
"I passed my collected cans of food onto Ms. Mitch and her face said it all. I think the food drive will be good this year," Rapp said.
Last years canned food drive went excellent and this year the student council would like to go above and beyond last year's donations.
The new student council adviser, Miss Gessler, is in charge of the canned food drive this year.
"I believe the canned food drive is going alright. I appreciate the donations from Friday night, although I expect much more commitment from our students," Gessler said.