Stop and Think…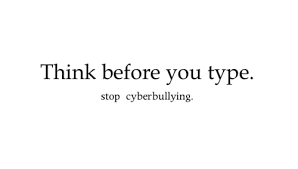 About 160,000 kids stay home from school because of bullies. 85 percent of bullying happens on a type of social media. How would you feel if you were getting made fun of online? How would you feel if you were the reason a kid didn't want to come to school?
Stop and think about what you tweet and how you talk about people. What you say matters and will always come back and haunt you. Next time you are angry at someone, think about what you are doing. Ask yourself if you should really post that rude comment on twitter for everyone to see. Because if you are the reason someone doesn't want to come to school… that makes you a bully.
Be smart while using social media. It's not meant to be used as a tool to make others feel bad about themselves. You only have a short time left with your classmates. Spend your time making exciting memories instead of wasting it online talking bad about people.
3 Facts about Cyber Bullying
Studies show that 81% of teens believe bullying is easier to get away with online. This sentiment can easily lead students to dismiss the consequences of bullying because they don't believe they will get caught.

Victims of cyber bullying are more likely to suffer from low self-esteem and to consider suicide…
66% of teens who have witnessed cyber bullying have also seen others join in with the bullying, which can make matters extremely worse for the victim.