NBA Power Rankings
The top 10 teams for Week 3 of the NBA season.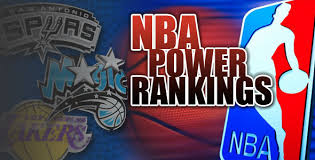 Cleveland Cavaliers- Led by Lebron James, the cavs have started off with a 6-1 record.

LA Clippers- Led by the big 3 of Chris Paul, Blake Griffin, and Deandre Jordan, they are now off to a 7-1 start

Golden State Warriors- Led by 2 time MVP Steph Curry, alongside 3 other superstars, they are off to a 6-2 start.

San Antonio Spurs- Led by Defensive player of the year Kawhi Leonard, they have started slowly with a 5-3 record

Oklahoma City Thunder- With the lone superstar Russell Westbrook off to an amazing start to the season, they have a record of 6-2

Toronto Raptors- Demar Derozan and Kyle Lowry are one of the best backcourts in the league lead the team to a 5-2 start.

Charlotte Hornets- Kemba Walker leads the team to a 6-1 start

Utah Jazz- They started off well with George Hill off to a great start. They are 5-4

Portland Trailblazers- Led by MVP frontrunner Damian Lillard, they are off to a 5-4 start.

Atlanta Hawks- New addition of Dwight Howard has really added a needed element to this team. They are off to a 6-2 start.