Dribbling into Success
The Lady Bulldogs are ready for the season.
The Lady Bulldogs Basketball Team is a dominate, well-rounded team ready to take on the season. They ended their previous season with twenty two wins and only two losses, which is a school record for most consecutive wins in a season for Poland basketball.
Last year, they had no senior representation; however; they will return with mostly all of their hard-working players. The Lady Bulldogs will have four seniors; Emily Melnek, Joelle Abe Habib, Emily Cammack, and Jillian Penman. Junior representation includes Bella Gajdos, Maggie Sebest, Alea Nicolodius, and Juliana Blangero. Also, returning as a sophomore, Sarah Bury.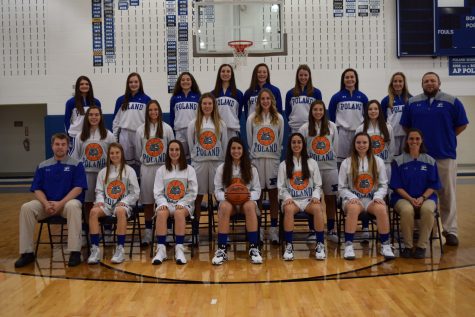 The Lady Bulldogs will start their season by playing their first game away against Salem on Nov. 30.
J.V. starting at 5 p.m.
Varsity starting at 7 p.m.
The varsity opener is on Dec. 10 at noon, which is sponsoring the United Way and will be aired on T.V.  
The Lady Bulldogs work hard and are determined to have a very successful season this year. Come out and see your Lady Bulldogs and support them in their journey.
"This season I think we have a lot of great players and we all play well together. So I think we will have a great season and a great tournament run. A lot of teams know what we did last year and we have become a huge target. But everyone is ready and we have put in the work to make it a great season. We hope to see a lot of people get excited for our season and whats to come," senior Emily Cammack said.