What You Need to Know about the Presidential Inauguration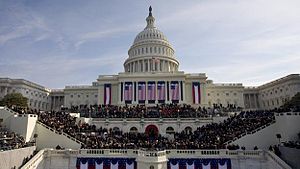 Here is almost everything you need to know and can expect at tomorrow's Presidential Inauguration.
Tomorrow, the  2017 United States Presidential Inauguration will be at 12:00 p.m. on Friday, January 20. All times are in Eastern Time.
Donald Trump will be sworn in as the 45th president of the United States. The main ceremony will be on the West Lawn of the Capitol.
After the swearing in, Trump will give a speech. The inaugural parade will follow after that ceremony at 3 p.m. and make its way down Pennsylvania Avenue toward The White House.
There are a number of Inaugural Balls across the city of Washington DC, following the inauguration to honor the president.
The proceedings will be aired on all major news channels, including Fox, CNN, MSNBC, CBS, ABC, and NBC News, with special all-day inauguration coverage. You can also stream the ceremonies online. NBC, CBS, FOX, and ABC will stream the events on their websites; however, you may need to login to your TV provider to access the coverage.
Source: https://washington.org/DC-guide-to/presidential-inauguration-washington-dc