Start With Hello-Week Details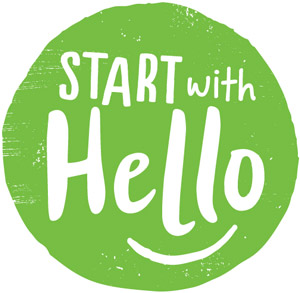 Twenty-six people — 20 students and six adults — were shot and killed at the Sandy Hook Elementary School in Newtown, Connecticut on December 2012. The shooter then killed himself. It was later found that the shooter dealt with social isolation growing up as a kid.
Social isolation is the overwhelming feeling of being left out, lonely, or treated like you are invisible. As a result, many further pull away from society, struggle with learning and social development and/or choose to hurt themselves or others. This created "Start with Hello Week".
Start with Hello week is an initiative put on by Sandy Hook Promise that teaches students about social isolation and encourages them to take initiative and reach out to other students simply by "Saying Hello".
Next week we will host a spirit week to unite the school and end social isolation.
Monday: Wear Green and support Sandy Hook week
Tuesday: Be Bright and show kindness to others: Wear Neon!
Wednesday: We stand together; Wear Poland apparel!
Thursday: Hippie day; Show peace to everyone in Poland!
Friday: Put yourself in someone else's shoes; Wear 2 different shoes and socks that express yourself!
Also at lunch student council will be giving out wristbands to everyone weds-fri which will unite us in terminating socialization.