Student Athlete of the Week: Jillian Penman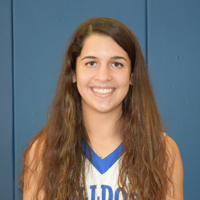 Jillian is a straight A student all throughout her high school career making her the student athlete of the week. Not only is she the student athlete of the week for the Seminarian, but she is the student athlete of the week for WYTV. She is a three-year starter on the Poland Girl's Basketball team and leads her class with a 4.0 GPA. Jillian is quiet but her actions speak louder than her words when she's on the basketball court. She is the team's leading rebounder with an average of 10 rebounds per game. Jillian also is a four year letter-winner in Volleyball and a three year letter-winner in Track. She is a member of National Honors Society,Italian National Honors Society,Leadership, and Italian Club. Jillian balances her academics and athletics with the help of her mom saying,"If your grades go down then sports are out!"  Jillian has had a big impact on the team and the team wouldn't be the same without her hard work and dedication.
Melnek: How do you balance school and sports?
Jillian: Time management is key. I try to stay ahead of the game for my studies. when I know I have a test coming up. For sports, my focus is to use maximum effort and get better everyday.
Melnek: Which of your sports is your favorite?
Jillian: Basketball.
Melnek: What will you miss about basketball?
Jiliian: I will miss bonding with the players and coaches on and off the court.
Melnek: Where would you like to go to college?
Jillian: I plan to attend Youngstown State University and major in Engineering.