Greater: Movie Review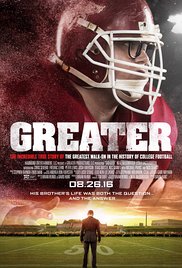 The movie Greater is based on a true story about Brandon Burlsworth who was an amateur football player in high school but with hard work and dedication he became the greatest walk-on football player in the NFL.
Brandon always dreamed of playing for the Arkansas Razorbacks, but most considered him too short and too fat to play at the Division I. level. But he took a major risk and walked on in 1994. His fellow teammates and coaches didn't think he had a chance but he had determination, and the more people that doubted him only made him more determined to prove them wrong. Not only is he a hard working football player, he is a devoted Christian. Brandon never drank or cursed and was extremely humble. He worked hard on and off the field, becoming the first Razorback to earn a Bachelor's and Master's degree while still playing.
He was once an embarrassment to his teammates and coaches but ended up becoming the most respected player in the history of the program, and an inspiration to all athletes. Eleven days after being drafted into the NFL, Brandon was killed in a car accident. In the beginning of the movie, the first scene is at Brandon's funeral. Brandon's story was more than just football. He became an inspiration to everyone who feel they can't do something because someone else tells them they can't. Brandon proves people wrong and touches the hearts of everyone who knew him and watched him become successful. Greater  will provide hope and inspiration while learning never to underestimate anyone with a big heart and big dreams.