2017 S.T.E.P. Honors Banquet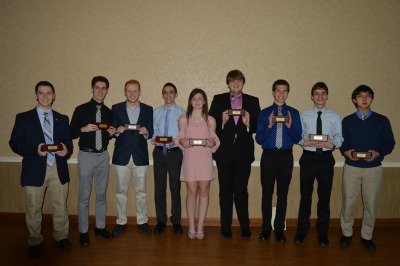 Eighty-six seniors were invited to attend the 2017 S.T.E.P. (Students, Teachers, Education and Parents) Banquet on March 16 at The Embassy. This was a night to acknowledge the students who have held a GPA of a 3.5 or higher.
The class of 2017's valedictorians include Sarah Burkert, Christopher Economus, Jacob Hockensmith, Jacob Jeges, Peter Koulianos, Noah Lee, Noah Smith, and Justin Tremonti as well as Salutatorian Seth Hammond.
This night included a dinner, distribution of certificates, and guest speaker Jim Tressel, the President of Youngstown State University. Jim Tressel gave an inspirational speech about his opinion on what he believes are the top five traits you need to develop to be the most successful in life. These were:
Work Ethic

Cognitive ability

Curiosity

Grit

Selflessness
It was another great night to honor the class of 2017's academic accomplishments.  
Photograph taken by Olivia Morgan