Sweet after School Treat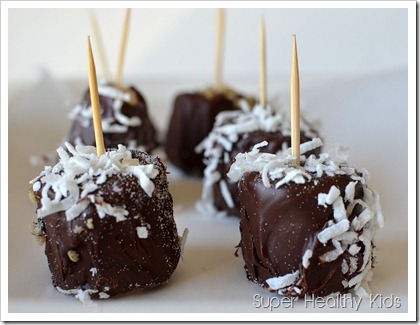 Want a healthy-sweet after school snack that you can just pull out of the freezer?   Try these taste banana bites that are super easy to make!
Chocolate covered Banana Bites
Ingredients:
2 bananas peeled, cut into thirds

8 ounces chocolate of your choice

1 cup of topping
RECIPE: To start off your banana bites,  first cut the bananas into thirds (3 sections). Once you have cut up bananas, stick a toothpick into the center of each sliced section. Then, place tooth-picked banana slices on a baking sheet lined with parchment or wax paper. Place bananas into the freezer for 1-2 hours  to prep them for the following steps:
(Not freezing the bananas makes the process hard and messy!)
Once the bananas are frozen, melt the chocolate of your preference. Now, take the bananas out of the freezer and dip them into the chocolate. Immediately after each banana is dipped into chocolate, roll it in coconut shavings or preferred topping. Once all of the bananas have been dipped and rolled into the toppings, freeze them until chocolate hardens.
*Keep  frozen until you're ready for a snack!*