Applying to Colleges Do's and Don'ts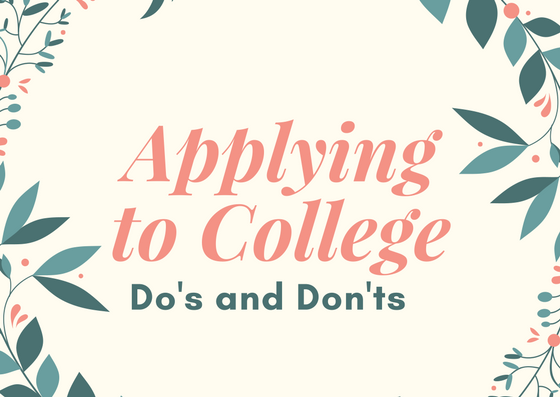 Renee Ho, Staff Writer
September 25, 2017
If you're a high school senior, or a junior, it'll soon be time to start applying to colleges.  For many, applying to colleges is daunting, so here's a list of do's and don'ts to make your college admission process easier.
Do start working on your application now
Most students start their college applications in the summer before their senior year. It's best to start as soon as possible, so you will have some time to revise your materials before turning it in. Don't be the student who is stressed out because the deadline for their application is coming up in a few days.
Do ask questions if you're unsure
Don't wait for your counselor to call you down; take initiative and schedule a meeting with your counselor if you have questions that need to be answered as soon as possible. They've worked with hundreds of students so they'll be the best person to answer your question.
Do attend all college-related meetings
Attend as many meetings as you can, and be ready to take notes. Don't be complacent and refuse to attend a meeting even though you are free that day. They will provide a lot of information that you might not know you need.
Do think about financial aid
Don't assume you can't afford a college and not apply for it. You won't know for sure
if you can afford tuition until you find out how much financial aid the college will offer
(if you're accepted). Fill out FAFSA as early as possible to qualify for the most aid.
Reflect on yourself before adding colleges to your list. What are you looking for in a school? Are there any specific courses you would like to take? Don't focus on a college and forget about yourself.
Don't send additional material
If a college doesn't require you to write an essay, don't! It's a waste of time and might suggest you're not capable of following directions. However, if you need financial assistance, most colleges still require an additional essay. Make sure to follow the guidelines carefully.
Don't take an easier class
If you know you're capable of taking a harder class, take it. Don't take an easier class to get an easy A; colleges want to see students challenge themselves. Admission officers are able to tell if you worked below your ability. This doesn't mean you have to take every hard class in the book, but instead of taking college English, take AP English.
Don't join every club or sport
Colleges want to see you specialize in two or three things, and if you've made an impact while doing that activity. Don't join too many clubs and have no time to participate in half of those clubs. Contrary to your belief, it wouldn't help your application.
Don't think there's one perfect college
There are many schools that will be a good fit for you. Don't fall in love with one and get heart broken if you're not accepted. Research colleges, visit campuses, be sure to keep your options open.
Don't let ambition cloud reality
It's good to have aspiration, but be realistic of your position. Don't only apply to schools that are out of reach. Make sure to apply to some 'safety' schools just to be sure you'll have a place in a college. You can always transfer to another school when you work things out.
.