Indians' Win Streak/Playoffs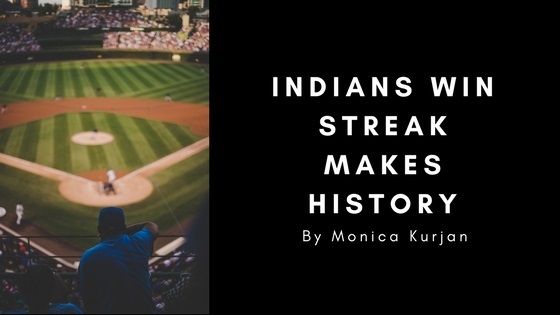 On Thursday afternoon, September 14, the Cleveland Indians won their 22nd straight game to put them in sole possession of the American League record for most consecutive wins. These past wins have come against the Kansas City Royals, Chicago White Sox, Baltimore Orioles, and the New York Yankees. The Yankees series, taking place between August 28 and August 30, was the first time the Indians have swept the Yankees in a three game series in the Bronx since 1989.
The Indians started a new four game series with the Royals Thursday, September 14. Josh Tomlin (9-9) was on the mound for the Indians facing Jake Junis (7-2) for the Royals for the first game of the series. The Indians won this first game in extra innings, finally tying it in the bottom of the ninth inning and winning it in the tenth inning. The Indians alone now have the record for the longest winning streak in baseball. The 1916 New York Giants had a win streak of 26 games, but intermixed in those games was a tie, which is why the Indians now have the record for uninterrupted games.
Kansas City snapped the Indians win streak on Friday, September 15, with a winning score of 4-3. However, the Indians took the series winning three out of four games.
With it being the last month of regular season for MLB, the Indians remaining series include the Minnesota Twins and Chicago White Sox at home, and the Los Angeles Angels and Seattle Mariners on the road.
Peek at the playoffs:
Division clinches around the MLB include The Washington Nationals with the NL East division, the Indians with the AL Central Division and the Houston Astros with the AL West Division. The Los Angeles Dodgers (NL) and the Boston Red Sox (AL) have both secured a playoff berth, meaning they will at least be a Wild Card.Indians Article Canva