Magic Tree Pub & Eatery
Gianna Hryb, Photographer/Staff Writer
September 29, 2017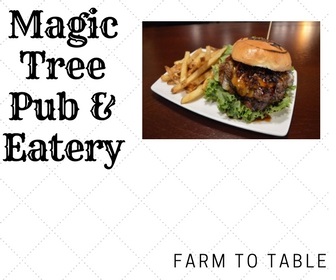 If you are looking for a new place to eat with good, wholesome food then you would love the Magic Tree Pub & Eatery located in Boardman, Ohio.They are open Mon-Thurs 11am-11pm and Fri-Sat 11am-1:30am. From fresh ingredients to a quality dining experience with a unique atmosphere, this place has everything from their signature one pound pretzel, to a wide-ranging housemade menu selection. It's a perfect place to take the family, go out with friends, or even for a date night. They also provide a vegan, gluten-free, and vegetarian menu.
Not only can you go there to watch the latest football game and have a good meal, but you can also get a private room. Their private rooms can hold anything from wedding receptions, to birthday parties, to date nights.  "I go there often with my family they have great food and the service is good," said a current student at PSHS, Marlie McConnel. Next time you're out with the family or even alone looking for some good nutritious food, I recommend going to the Magic Tree Pub & Eatery.
You can also be sure to check them out on all their social media: #MagicTreePub.