Girls' Tennis Senior Night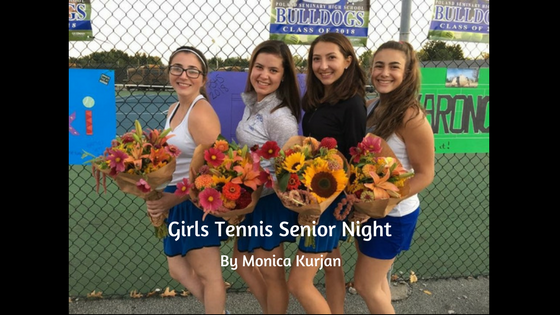 The girls' varsity tennis team, led by seniors Lauren Pepperney, Marisa Ricciardi, Niki Spencer and Yara Hussein, is having a very good season, with a record of 20-1. On Thursday, September 28, the team faced Boardman's varsity tennis team and celebrated the Poland girls senior night with a win.
I spoke to three of the four seniors to see how their season is going and to find out what their senior night meant to them.
Lauren Pepperney, a four year letterwinner in tennis, said "[This season] is going really well, it's the best season so far we've had. Individually, I am undefeated".
Pepperney has been looking forward to her senior night since her freshman year and was very impressed with how it turned out. "It was our final match to put it all out there and make the most of it. Underclassman did a great job decorating everything and more thanks to the underclassman and we won," said Pepperney.
Marisa Ricciardi has had a successful tennis career. She is a four year letterwinner, two time district qualifier, three time first team all conference, 2016 conference player of the year, and went to the state tournament her junior year along with her doubles partner Audrey Schweers, who graduated in 2017.
Ricciardi is having another prosperous season. "Personally, I am having one of the best years. My record is 17-1, and I was honored with WFMJ Student Athlete of the Week this upcoming week", said Ricciardi.
As to what her senior night meant to her, Ricciardi said, "Senior night was bittersweet and I am so thankful for all the underclassmen and their parents. I will always remember this special night".
Senior Niki Spencer, a one year letterwinner, is going to miss tennis after this season's over. She says,"It's a good season, I'm enjoying it. Personally, I never played [tennis] before freshman year, never even held a racket, so I think I'm doing pretty good".
The tennis team headed into tournament play, starting sectionals on Monday, October 2. Best of luck to the team!