Ricciardi Heads to Tennis State Again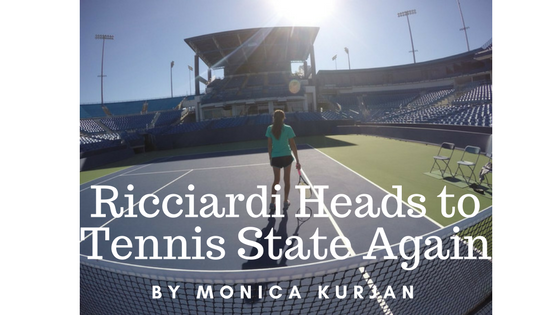 Poland Senior, Marisa Ricciardi, went to the state tennis tournament for the second time in her high school career, the first time being her sophomore year for doubles with partner Audrey Schweers. This year is different though; Ricciardi made state as a singles player. The tournament took place Friday, October 20 in Cincinnati, Ohio. I sat down with Ricciardi and asked her a few questions about her experience at state.
Seminarian: You've been to state once before, during sophomore year for doubles. What does it mean to you to make it again as an individual your senior year?
Ricciardi: Honestly, I never thought I would have another opportunity to go back because of how hard it is to make it. I'm so grateful to have this second chance.
Seminarian: How did you prepare for this moment?
Ricciardi: To prepare for this moment, it can't be done in a week. All the work on and off the court through the years is what prepared me for this moment.
Seminarian: Did you feel as though you had an advantage because you have been to state before?
Ricciardi: Yes, I do feel like I had an advantage because I have been under the pressure before.
Seminarian: How did the state tournament go?
Ricciardi: It was great. I won my first round and then lost my second round. I ended up being 6th in the state for Division Two. It is very hard competition at state and just winning my first match is such an amazing thing.
Seminarian: How was the atmosphere at the state tournament?
Ricciardi: The atmosphere was very cool and the arena is amazing. Everyone there is determined to win and has been playing tennis for a long time.
Seminarian: What are your feelings now that tennis is over?
Ricciardi: It was very bittersweet to end my career at the state tournament. It is sad that my high school career is over, but I left it all on the court and have no regrets.
Seminarian: Do you have plans to play in college?
Ricciardi: I am unsure of where I want to go for college so I am not sure if I am playing yet. I hope to somehow be involved with tennis after high school.