Astros Win!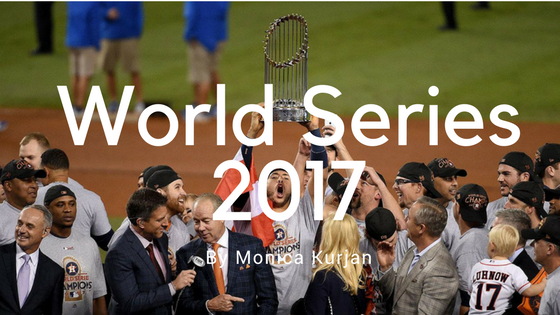 This year's MLB World Series was between the American League's Houston Astros and the National League's Los Angeles Dodgers. The Astros' road to the World Series included defeating the Boston Red Sox in the American League Division Series (ALDS) and the New York Yankees in the American League Championship Series (ALCS). The Dodgers got to the World Series by sweeping the Arizona Diamondbacks in the National League Division Series (NLDS) and beating the Chicago Cubs in the National League Championship Series (NLCS). The World Series is a best of seven series, meaning that in order to be the ultimate champion, a team needs to win four out of seven games.
In game one of the series, the Dodgers defeated the Astros by a score of 3-1. Clayton Kershaw was on the mound for the Dodgers against Dallas Keuchel for the Astro's. Chris Taylor hit a leadoff home run for the Dodgers and it was the third time the Dodgers led off with a home run in post-season history.
Game two was won by the Astros with a score of 7-6, winning with extra innings. From here on out, the series was a back and forth battle between the two teams. The Astros also won game three and five with respective scores of 5-3 and 13-10 (game five was extra innings). The Dodgers won game four with a score of 6-2. Leading into game six, the Astros had the upper hand in the series leading with three wins as compared to the Dodgers two wins.
Game six was very interesting. A lot was on the line for the Dodgers this game; they had to win to force a game seven and give them the chance to win the World Series. And they did just that, the Dodgers won game six with a score of 3-1, forcing a game seven.
Game seven was in the Astros favor from the start. Yu Darvish was on the mound for the Dodgers against Lance McCullers for the Astros. Darvish had a hard time from the start, only making it through a little less than two full innings. The Astros got on the board early in the first because of an error by Dodgers first baseman, Cody Bellinger. The Astros scored two runs in the first inning and three runs in the second, giving them an early 5-0 lead over the Dodgers. The Dodgers tried to fight back scoring one run in the sixth inning on a pinch hit single by Andre Ethier scoring Joc Pederson. The Dodgers failed to score any more runs, giving the Astros their first World Series in franchise history on game seven with a final score of Astros-5 Dodgers-1.