Starting the year with a clang
The Marching Band performed their new halftime show to third, fourth, and fifth grade students at McKinley Elementary School on Friday, August 24.
Mrs. Iberis, Assistant Principal of McKinley and Poland Middle School Complex, said that it is important that students are introduced to the music program in order to elicit excitement.
Mrs. Iberis said, "It gets them excited, and it gets them anticipating when they get older what they get to do especially with our fifth grade program."
The students will get to see different instruments, but also, they can see the band working as a whole unit.
Mr. Hvizdos, Band Director, said, "We need to demonstrate the instrument for the fifth graders because they are about to make the choice about what they are going to play."
The hope is that it will increase participation.
Mrs. Iberis said, "Hopefully, a lot of kids will sign up, so we can have a great continuation of a music program."
During the morning, the marching band left school and performed outside at Baird Mitchell Field.
Mrs. Iberis said, "The high school kids did an awesome job; they are just wonderful and put so much work into the summer to do what they do."
Mr. Hvizdos and Mr. Penney, Assistant Band Director, are continuing to spread the love of music to Poland students.
Mrs. Iberis said, "We are really, really lucky to have Mr. Hvizdos and Mr Penney at the forefront of our instrumental music program."
Mr. Hvizdos changed the venue for the performance. Prior to this year, it was at the high school.
He said, "Doing something new, you are always concerned. 'Is this going to go well?' or  'Is this a good thing?' and it just seemed like it really got our kids from the high school closer than when they were in the stands. This way our students were able to get a little bit closer to the elementary kids."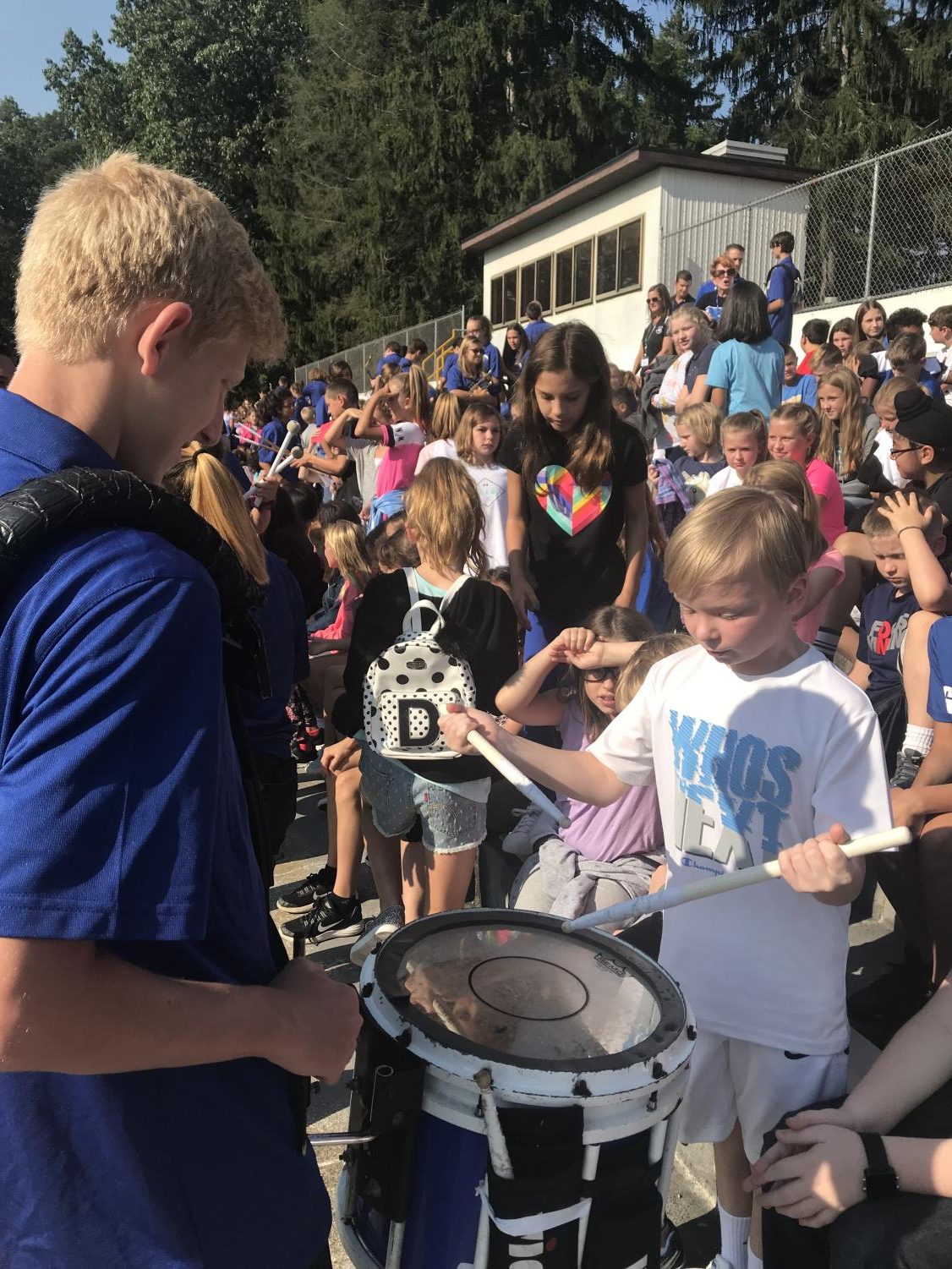 Members of the marching band were positive about the event.
Senior Ben Adams, who has played the snare drum all four years, said,  "It was good, lots of fun, and the kids seemed to really enjoy the music."
Senior Zack Simon, who has played the saxophone for about 8 years in the band, and this is his fourth as a member of the marching band, said, "It went pretty smoothly; I think the performance was a good way to influence kids to join the marching band when they reach high school."
The McKinley students were very enthusiastic and inspired after the event.
Mrs. Iberis said, "Mr. Penney and I were standing there, and we were giving them high-fives and saying, 'Hey, what instrument do you like?' and they were saying, ' I like the xylophone!' and 'I like the trumpet!' and 'I'm gonna play flute!' so they were really excited."
Adams and Simon reflected that band has allowed them to enjoy the music, but more importantly, enjoy the music as a group.
Simon said, "Marching Band is a lot of hard work, but it is all worth the while when you get to play on Friday nights."
Adams said, "Band is a lot of fun, especially being with my friends and just enjoying the music together."