Senior class gift illustrates history of Poland
The senior class of 2019 created a mural as their senior gift to the school. Some of the seniors working on this mural include: Madison Crow, Lindsey DeLullo, JP Yerian, Kayla Bush, Ellie Blasko, Lauren Bayerl, Owen Hernon, and Chelsea Kilgore. Chelsea was the artist who created the design for the mural and has been leading the effort to carry it out.
Kilgore shared her inspiration for the mural design.
Kilgore said, " I wanted to do something based around Poland and the town's historical landmarks. There's another amazing mural in the high school that involves the Poland schools and student activities, so I wanted to pay homage to the town rather than a similar topic, since it was already done well."
The mural focuses on community and history and showcases the following: the bluebells of Poland Woods, the gazebo at Poland Village Town Hall, the Poland Village "Town One Range One" sign, the Poland Clock Tower, the Poland Library, Poland Seminary High School's building, and neighboring towns and cities.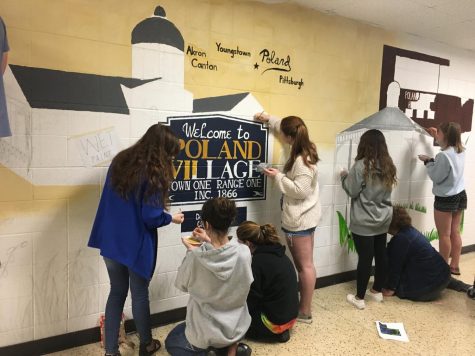 Kilgore discussed the idea with student council which then approved the idea and took it to Mr. Snyder for final approval.
Jake Snyder was the one who brought the idea to Mr. Snyder, and Mr. Snyder was very intrigued and impressed with the students.
Mr. Snyder said, "My first reaction was 'how creative!' I thought it was a pretty cool idea having something that will last, especially after having what Mr. Lattanzio had done for us a couple of years back."
Additionally, everyone involved expressed how the mural illustrated the artistic talent of the students involved.
Mr. Snyder said, "I thought it was a great idea, and anytime you can even showcase talents from Poland is great. We always talk sports and academics, but to have that art aspect is intriguing."
The art mural is located in the freshman hallway and is nearly complete.
Kilgore said, "I am so excited to be able to contribute to the senior gift. It's really cool that something I designed and worked on will be in the building for years to come."