Say Yes to Donating the Dress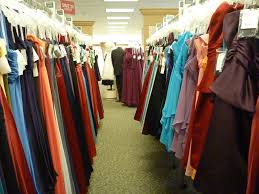 By, Gianna Aromando, Editorial Editor and Staff Writer
A question often asked is would girls rewear or buy a used dress? Or, what do you do with your homecoming and prom gowns after the occasion has passed? In North Lima, Ohio located in the South Range Business Incubator, there is a boutique called Diva Donations that loans and accepts homecoming, prom, and special event gowns.
According to their website, the boutique is "dedicated to providing a Cinderella experience with help from fairy godmothers in our community."
According to Aubrey Bodendorfer, a junior and the owner's daughter, said that the setup of the store is fairly simple. There are two rooms; one that has homecoming dresses and one that has prom dresses.
Bodendorfer said that at the moment, the store has around 2,500 dresses, and they get an average of 25 girls each Saturday in a span of about two hours during dance season.
Also, Bodendorfer said that dresses typically do not come in right after dance season. They usually come in after a couple years when people realize they no longer need them.
However, they have new kinds of dresses being brought in all the time because some mothers bring them in directly after the dance since their daughters no longer need them, according to Bodendorfer.  
The store is convenient to drop dresses off at because it is near Poland, Ohio.
One does, however, have to call in advance to get a dress, but the store is constantly accepting donations.
According to their website, their main mission is "to help alleviate the financial stress of low income families with young girls attending a school dance or special event, divas can now obtain use of a dress with a simple note from a 501C3 non profit charity in her area that states she helped better the world for one hour."
Diva Donations encourages community service through their program.
The mission statement concludes, "Our desire is to encourage paying it forward and to give back to make a difference in our community."
If you are looking for a dress for the next big dance or looking to donate one of your previous dresses, look no further.
To find out more information, go to divadonations.com or call 330-540-8327 to make an appointment.