Poland Honors Veterans Day with Assembly
Poland Seminary High School held their annual Veterans Day assembly on Monday, November 11 in the auditorium. The choir opened the ceremony, honoring veterans with the "Star Spangled Banner" followed by the wind ensemble performing. Poland's elementary choir teacher and Army Reservist Dana Emery delivered the guest speech to commemorate the day.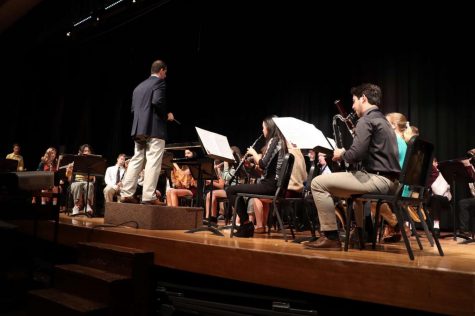 Staff Sergeant Emery attended the University of Akron to pursue a degree in music. After graduating from college, Emery joined the Air Force National Guard. From 1996 to 2002, Emery played in the Triple Nickel Band while in the Air Force. Some of her accomplishments include playing for President Clinton and going on a two week tour in Hungary. 
Emery emphasized the determination it takes to be in the military. From what types of food you eat to the discipline and ability to follow directions that is necessary in order to protect oneself and others plays an important role. Twice a year, a physical fitness test is required and if they do not pass, extra training is necessary.
"If you fail by even one push up, you fail the whole test," said Emery. 
An average schedule for someone in the army is working five to six days a week from 6:30 am to 4:00 pm. Emery explained that outside of the set schedule, one trains in their military occupational specialty (M.O.S.) which includes technology experts, chefs, and tank experts. 
Emery lives by the mentality that one must be able to adapt to any situation under any conditions.
As an Army Reservist, Emery resides in Boardman with her two children and husband. She is a music teacher at Poland Union Elementary. As a way to honor veterans, Emery is the squad leader of her band and plays for veterans on occasion. 
Sergeant Emery touched on the importance of recognizing a veteran for their service. 
She said, "If you see a veteran, you should take the time to thank them because if it wasn't for them, you wouldn't be able to enjoy many freedoms that you do."