Dennis McCully Interview with Cross Country Runner; Logan Flament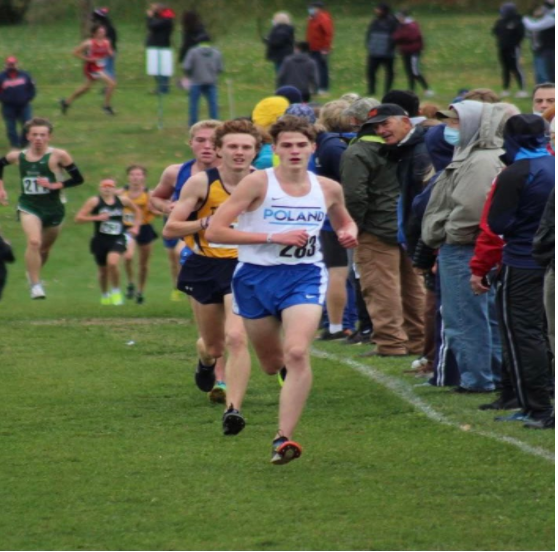 Poland sports went exceptionally well this fall with a number of sports progressing deep into their respective play-offs. This couldn't be more true for Logan Flament, who went to state for cross-country on November 6.
In the interview with the already accomplished sophomore, I asked how Flament felt going into this exclusive event, where only the best runners of the state go to compete. 
¨I was very anxious, but confident. I knew I was in the best shape of my life, but I was also unsure of how competitive of a field I would be racing against,¨ he concluded. ¨Above all, I was super excited to race against the state´s best.¨ 
Flament reflected on his growth from previous cross-country seasons. 
¨I think state went very well, I placed 15th as an All-Ohioan, which is a huge improvement from my place of 54th at last year´s meet. I also set a new personal time,¨ said the runner with satisfaction. ¨The process of making it to state has been a long and difficult one. It started in the spring, and it has consisted of running six days and 40-50 miles per week.¨
As one can see, Flament certainly put the work in! But, that's customary for his family, as his mom was a professional runner who inspired him to take up the sport as well during his seventh grade year. 
After discussing the results, I asked Flament what the future held for his running career, including this upcoming track season. 
¨Now that my cross country season has concluded, I am going to take a few weeks off… to recover fully from such a long season. After that, I will start my training for track in the spring.¨ 
¨I want to take advantage of my youth and see how good I can get at running before it's too late. I hope to win a state championship before I leave high school and to receive a scholarship. After collegiate running, I think that will be the end of my competitive running career as I will need to focus on other areas of life,¨ Flament said. 
Flament wanted to leave his fellow students a message:
¨If something isn't going the way it is planned, patience is key. Just because it's not going well now, doesn't mean you should give up on it and yourself. All the hard work will be worth it in the end.¨