In Dedication of Poland's Retiring School Nurse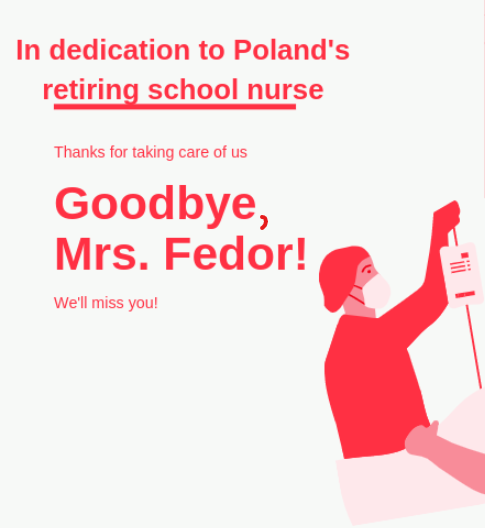 The school nurse is always an essential role in any school system. The students and staff trust this position with the health, care, and safety of the entire school body. Over time, they become more than just another face with a purpose, they become family. That couldn't be more true than for Poland Seminary High School's School Nurse, Mrs. Cathy Fedor, who is retiring this year. In an interview with Mrs. Fedor, the Seminarian asked her questions as she transitions to the next stage in her life and how she was feeling about it. 
Mrs. Cathy Fedor graduated from Boardman High School and attended Nursing School at St. Elizabeth's School of Nursing (RN) and YSU (School Nurse Licensure Program and MSN). She worked for many years at St. Elizabeth's Hospital in Critical Care, Renal and Oncology before making a career change to School Nursing. She was hired as the school nurse in Poland in August 2001. Since then, she has split her time between the high school and the elementary buildings (Dobbins, North, and now, Union). As her final weeks as the Bulldog Nurse come to a close, the Seminarian asked her to reflect on the experience: 
"It has been the best work experience of my career. I have been fortunate to work with a fantastic and dedicated group of teachers, staff, and administrators. It has been especially rewarding to get to know students at the elementary level and then see them again when they get to high school and see all they have become and what they have accomplished….it is truly inspirational," said Fedor.
As we got nostalgic with Mrs. Fedor, the conversation shifted to looking onwards. When discussing how she would spend retirement, Fedor said, "I'm still figuring that out besides the usual… spending time with my family, and dog, and traveling, I hope to stay involved with nursing in some capacity. I also plan to learn to play the piano."
Mrs. Fedor's contribution to the Poland School System was immense, and she will be greatly missed by everyone who she has ever come in contact with during her time here. As we say goodbye to our departing friend, Mrs. Fedor has one last message:
 "Keep Calm and Listen to your School Nurse" 🙂