Athletes of the Month: October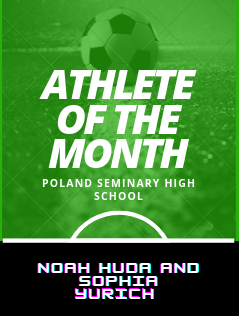 Oftentimes, at Poland Seminary High School, certain athletes rise above the rest, and the Seminarian takes it upon themselves to meet with these athletes monthly and get the scoop on all things pertaining to their sport. This month, Noah Huda gave us an interview discussing everything to do with soccer. 
"This year, for soccer, I'm really enjoying it… We are in the race to win the conference title for the second year in a row," said Huda. 
A varsity starter for the Poland soccer team since his freshman year, Huda has been a powerful force on the field for the last two years. Entering his junior year, the Seminarian asked him to examine where he stands in his sport and where he plans to go. 
"One of my goals for soccer this year is to make a deep run in the playoffs with the team. It would mean a lot to win the district final and to even go farther than that," said Huda excitedly.  "I want to be able to play soccer in college and further my education in sports management." 
Overall, Huda is a great representative for Poland on and off the field. As the season goes on and the Poland soccer team advances deeper into the season and eventually the playoffs, make sure to get out and see a game while keeping an eye out for Noah Huda. 
"My teammates are my family," says Huda. "I trust and represent them. With them we can accomplish anything together." 
For girls athletics, the athlete of the month is Senior, Sophia Yurich. We were able to speak with her about this golf season and how she feels the season is going.
"I'm really enjoying it this year. We've made a lot of progress as a team as the year has gone on. The team is making great steps and improvements from when they first started. My goal for this year is to try and make it to state."
Speaking with Yurich who has been on point this year on the green, we asked about her motivation to the sport and where it comes from.
"My key motivation is to strive to be the best that I can be, golf is my favorite sport; my stepdad got me into the sport, and I fell in love instantly"
With sectionals and districts on the way for this Senior, she's hoping to make the most out of her last year with the team and states is the goal for her.
Congratulations to both athletes of the month and best of luck for the rest of your seasons.