Recap of Cross Country Districts with the Senior Runners and Regional Qualifiers 
After a very successful and fast season, the boys and girls cross country team gathered their top 7 runners from each team and headed to the district meet at GlenOak on October 23rd. 
The district meet determines who will qualify for the regional meet. The runners can qualify for regionals individually by running in the top 24, or they can qualify as a team if their team places in the top 7.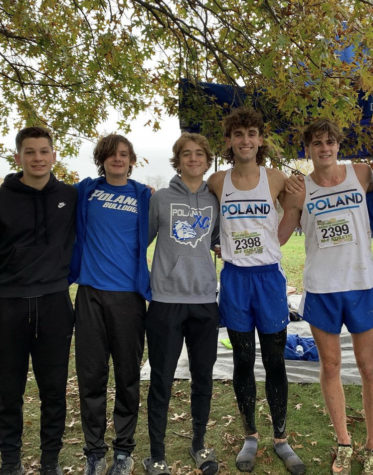 Senior; Andrew Biggs, and Junior; Logan Flament, both qualified for regionals which was at Boardman on October 30th. Biggs finished out his senior season very strong, and Flament will go onto run at the State meet on November 6. 
This year, the seniors who ran their last district meet ever reflect back on their experiences. Flament also reflects back on his very successful junior year as he looks ahead to senior year. 
Leading up to the meet the team did a lot of different things to prepare, from workouts to long runs. The top 7 runners executed many different strategies to prepare for the district meet.
Senior, Ellen Ethridge described what the week before districts: "Leading up to the race we pull back the amount of running we do in order to be in the best shape to peak at the race. Specifically, for me, I made sure to stay off my feet and bike so that my injury would not be irritated."
Similarly, Flament stated, " I decreased the intensity of my workouts so my legs would be more fresh for the race."
Being in a good mindset for an important race is always a good thing. All of the runners on the team, top 7 or not, have important pre-race rituals that will help them get ready to run.
Senior, Emily Denney, elaborates on her pre-race routine.
She said, "The week leading up I did my best to stay positive and pumped around the rest of the team to keep the energy up."

Biggs talked about a more personal tradition that he feels helps him perform his best.
Biggs said, " I tried my best to stay off my feet and relax Friday night. I always have a big bowl of Cinnamon Toast Crunch before races for good luck."
The team prepared exceptionally well for the district meet and all of them set important goals for themselves to try to meet or reach. 
Lydia Noble, a senior on the team, said that her goals for districts were to: "Run fast and have a good last race."
Biggs discusses his goals of being in the top 24 runners to make it to regionals. Flament had big goals in mind, which he ended up meeting.

Flament said, " My primary goal was to advance to regionals. I also wanted to use the race to practice good racing strategy."
Denney said that her goals were to run as hard as possible for her last cross country meet. 
Ethridge elaborates on her goals for districts: " My goal was to finish the race putting my best efforts forward. I came into the race with a slight injury, but wanted to give it my all for my team!"
Overall, the cross country team is pleased with their performance. The seniors reflect on their last time competing at the district meet.
Denney said, "Great experience all around. Cross country meets always have wonderful energy, but you can always feel the excitement in the air at districts."
Noble, who achieved a PR at the district meet said, "I can't speak for everyone but I had a lot of fun! The course was flat compared to the home course and I ran my best time there."
Ethridge reflected, "It was  time to celebrate my running career coming to a close and just have lots of fun with my teammates making memories together."
Looking forward to regionals, Biggs stated, "Districts was the race of my cross country career. I had a different mentality going into Saturday, and I couldn't be happier with how things went."
As Flament approaches his final races of his Junior year, heading into preparation for track season and then senior year he says that "districts was a success. I did what I had to do and advanced to regionals."
Along with Noble, Biggs also set a new personal record on the districts course. He says that his favorite part of the district meet was "definitely finishing. I have been trying to run under seventeen minutes since districts my sophomore year. It was exhilarating being able to cross the finish line and see 16:49 on the clock. Logan, at the finish line, told me to take it all in; it was a really great moment."
Flament shares his excitement about his teammate's PR's: 
Flament said, "Seeing Andrew finish and setting a new personal record was a great moment. I was really happy for him."
At regionals, Andrew Biggs and Logan Flament ran their best, and Flament ended up qualifying to state. The words he spoke after districts prove to be true: "The season is just getting started."