Band member of the month: Jacob Tsagares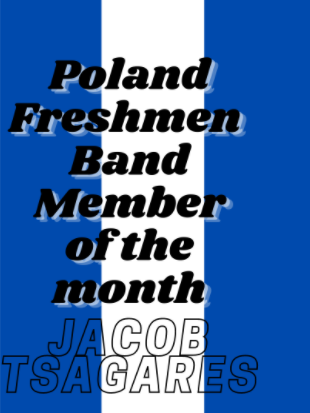 There are many members of the band, but as you know, there are many few faces.
Freshmen are now entering high school for the first time and are very nervous to see what they are in for.
We decided to have a band member of the month, and since the freshmen are more than halfway done with their freshman year, we have decided to choose Jacob Tsagares, a fifteen year old percussionist.
We asked a couple of questions leading up to why he chose to do band and many other trips at our school in the future.
We asked him, "Why did you join the band" and he said, "I have always been interested in the band."
Tsagares said, "I play the whole percussion section, for example the drums and bells."
We later asked him what other instruments he would play if he did not do percussion and he said he would have chosen trumpet.
Our school is having a Disney trip for the band students and he was very positive about the trip.