Art Show 2022
Poland Seminary High School hosted an art show May 10 that featured 529 pieces, ranging from grades 7-12. Artwork was compiled from the 2022 academic school year and entered in external exhibits such as Scholastics.
This year, the Best In Show awards were bestowed to Gavin Mathew; first place, Lauren Barrett; second place, and Jenna Spagnola; third place.
The following image includes the winners' pieces: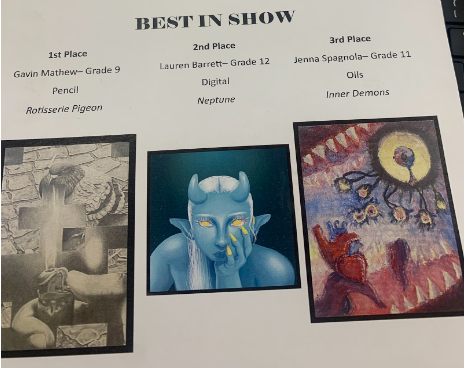 Left-Right: Gavin Mathew, Lauren Barrett, and Jenna Spagnola. 
 In particular, Mrs. Holub, Poland's Art Teacher, emphasizes the excellence of each and every entry. 
She reflected, "I am really proud of all the artwork entered in the show, especially since it was the first art show since Covid." 
Mrs. Holub said, "Great job to everyone who participated; I am looking forward to next year!"