Clothing Drive Recap with Dennis McCully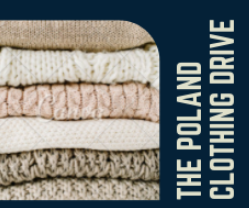 Poland Seminary's Leadership Club recently put on a clothes drive sponsored by the Salvation Army in which both the high school, middle school, and even the community participated. Entirely student-led, it took place for a period of about two weeks and ended just as the school went on spring break. The Seminarian decided to interview Dennis McCully, a junior, who kicked off the drive. 
"We are very happy with the results," McCully said. "As families purge their closets of clothing we figured it'd be a good idea to utilize that and get everyone to give those clothes to people who need them." 
We asked McCully to describe the origins of this idea, and he had this to say: "Oh it wasn't only me. My friends and I had mentioned the idea of a service project passively beforehand. It wasn't until my friend Drake and I were at a Leadership Club meeting, and they asked for ideas, did it become a reality. I only got the ball rolling. I couldn't have done it alone."
And, he certainly was not alone! Alongside Drake Trolio and Logan Flament, McCully assisted in delegating certain tasks to the entirety of the Leadership Club, all helping in a wide variety of ways. 
McCully said, "Too many people helped in ways that will probably go unmentioned, but I want to especially thank Logan for reaching out to the Vindicator and the Salvation Army, getting the word out was such an important piece. I'd also like to thank Drake for coordinating with the school's staff who allowed us to run this, and finally to Mrs. McGee, our Leadership Club leader; her assistance helped so much!"
The high school drive, the middle school drive, and the community drop all ran independently from each other in the same time frame, with the high school's having an interesting aspect:
"Yes, there was a five hundred dollar raffle for the high school's clothes drive. I thought it would be a good idea to give the students who weren't as eager to participate an incentive to do so. All of the kind members of our club personally donated so that we could maximize the turnout," said McCully.
As the conversation came to a close, the prospect of the clothes drive returning next year came up. You heard it from the Seminarian first, it will be an annual event! When asked about the quantity of clothes collected, McCully said this:
"Enough that we critically underestimated our storage capacity! We're very satisfied, because at the same time, it's something for people who need it and there's truly no amount or number that you can put to it," he described. "As long as we're helping others, we're very happy."