PSHS 2022 Prom
School  2022 prom took place on May 6th in Columbiana, Ohio, at "The Vineyards At Pine Lake." This school event was hosted from 7:00 P.M. – 11:00 and was made possible by the prom court, student council, and the volunteer chaperones who attended the dance and made sure the night ran smoothly.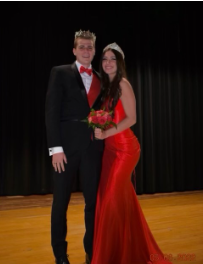 Prom King, Logan Flament, and Prom Queen, Morgan Bailey, stole the night in their dazzling outfits and shining crowns.
Many students enjoyed their time taking pictures with their friends at the photobooth.
With many silly hats and glasses to choose from, it was easy to enjoy yourself posing for pictures with your friends.
Also, the night was accompanied by a live band "K Street," who performed covers of hit songs like Megan Trainors, "All About That Bass" and "Havana" by Camila Cabello. 
The event was catered, and the food that was provided included chicken, salad, green beans, potatoes, and rolls.
There was also a cake table and a bar with virgin cocktails.
After dinner was served, the nights dimmed, and the dance floor flooded with kids ready to party, dance, and have a good time!