Poland Seminary Boys Lacrosse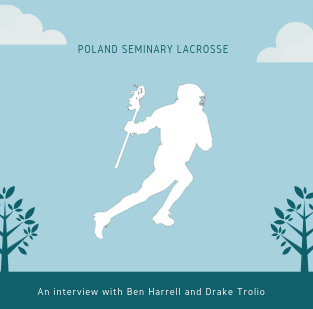 As the sun sets on the Poland Lacrosse Season, the Seminarian wanted to reflect on this past season. In an interview with two of the team's players, we got the scoop on what they thought about the season. 
Ben Harrell, a junior, reflected on his experience as the team's goalie: "The season was a ton of fun; I wish some of the games had a better outcome, but we just got to keep our heads up and move forward."
The club team here at Poland is relatively new, and it struggled to pick up its footing as it searched for its own identity in the way they play lacrosse. 
A defensive player concurred, "Definitely wasn't what we hoped for and expected, but we learned a lot throughout our season," said Drake Trolio, a junior. 
A game plan is needed to move forward, as the boys discussed, and these two players described their goals and aspirations for the next season. 
Harrell and Trolio both expressed taking another crack at the same roster of teams next season after a year of further developing the program in the off-season; furthermore, they want to face new teams as well to develop versatility. 
"Maybe that will help the team grow as a unit," suggested Harrell.
"We just need to keep getting better with every day, even if that's just one percent better, we'll look a little better each time we step on the field," Trolio asserted. 
The teammates agreed the future looks bright for their program as they enter the playoffs. Seeing it as an opportunity to grow as a team and to gain experience playing higher level competition, they are practicing harder than ever. 
Trolio mentioned, "To the parting seniors, I want to thank them for all they've done for the lacrosse program and helping all the new guys develop as players."
Harrell agreed as the interview ended, and the two boys returned to their practice.