The Battle of 224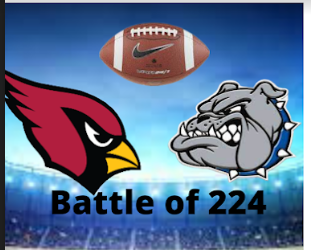 All Poland residents are riled up for The Battle of 224 which is always an exciting time here in Poland (Practically bigger than the superbowl in this town). Poland versus Canfield has recently been in Canfield's favor, but with the big game approaching this Friday the Bulldogs seem to have high hopes for the game.  
PSHS Head Coach, Tom Pavlansky, reflect on how the team is looking to rebound from the loss last year.  
Pavlansky said, "We're trying to get better everyday, and no one wants to lose a rivalry game."  His players are "moving in the right direction" and "want to redeem themselves."
Going into the game against Canfield, after a win last week against the Louisville Leopards, the Poland Football Team is hyped up to be back in action and hopes to gain revenge.  
After putting in all of their effort, the Poland Football team took a loss to the Cardinals last Friday with a score of 31-7.
After the game, we caught up with green shirt Joe Gentile, who said, "This game is always a learning experience" and is "looking to build from this."
After the conclusion of the game, Coach Pavlansky talked about looking forward and not backwards.
Pavlansky said, "We have to have a short memory, and have to learn from what we did and did not do well to get better. We have to stay together and trust each other. There were positives from the game, and we came out and battled in the second half. We have to battle when facing arguably the best player in the area, if not the best player in the state of Ohio" 
There was a lot to build on for the Bulldogs, and they have to keep trusting each other to win more games.    
Overall, The Battle of 224 was lost this year, but this will only make the Bulldogs hungry. There are high hopes for next year's game against Canfield.