Lauren Hymes' Thoughts on the Tennis Season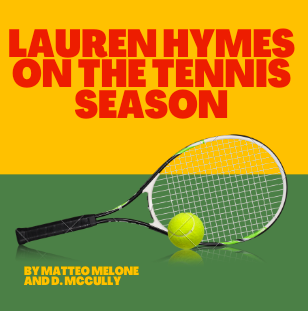 New tennis courts usher in a season of new beginnings. Recently, the girls' tennis team had a stellar regular season going 16-1 with seniors Teresa Quinones and Felecitia Quinones and Sophmore Lucienne Hopps leading the way.
Senior Lauren Hymes reflected on her season saying,  "It was a successful season. It was very fun."
She is especially proud of how far her teammates made, some going as far as districts. 
Hymes stated, "I am very proud. Especially Lucienne because she is so young and she made it this far." 
As Hymes told stories from her time throughout the season, she couldn't help but recall some of her favorite memories. 
Hymes said,  "My favorite match was senior night against Niles because I got to play with my friend Preslie."
However, the season does have its adversity.
Hymes said, "My hardest match was against Lordstown on Monday at sectionals. We lost our first set and our second and came back 6-6. Then we played a tie break and it took forever and lost by a point."
The competitiveness of this game stung especially hard considering it was their first loss.
Post loss, she said, "We worked hard at practice and worked together as a team."
Overall, this loss was nothing more than a drop in the bucket. Winning all other of their sixteen games, the Poland Girl's Tennis Team dominated the competition. And, like Lauren Hymes, the senior girls can retire happily knowing they led their team to such success.