Trunk or Treat: A Spanish Halloween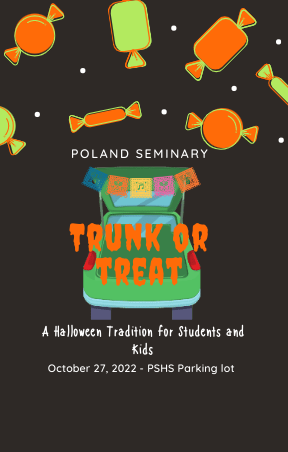 The Poland Seminary's Spanish Club has been an active participant in celebrating the Halloween holiday in their own cultural way. For the past couple of years, the Spanish club has hosted an annual trunk or treat in the High School parking lot with lots of activities and fun for everyone who participates and attends. The 2022 Trunk or Treat will be on Thursday, October 27 at 4:30 p.m.
This year, the club will be taking donations to help fund the Sensory Room in the schools. Along with the cars and candy, there will be other activities for kids of all ages to participate in. Spanish teacher, Lisa Latronica mentions that there will be crafts, face painting, hot chocolate, and even an ofrenda display. Those who attend will have an opportunity to learn about "Dia de los Muertos" and will be able to see immersive aspects from the movie "CoCo"
Spanish Club's Trunk or Treat is an extremely kid-friendly Halloween event run by students and volunteers. Hopefully there is a large turnout, as the event is a great way to immerse in Spanish culture, and the proceeds go towards a good cause.