Athlete of the Month: Sarah Forsyth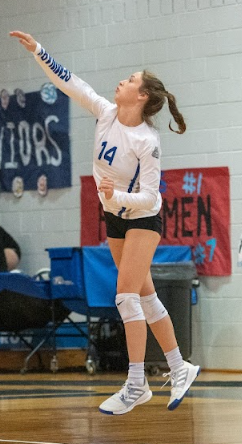 Sarah Forsyth, class of 2023, was awarded "Big Dog of the Valley" this week by YSN and The Baird Brothers. 
"Big Dog of the Valley" is a title won by a public vote on YSN's website that highlights top athletes throughout the season. Once somebody has been selected as a "Big Dog," they are then later given the opportunity to be voted as "Player of the Year" for their respective sport. 
The "Big Dog" shared her thoughts on this title she earned, acclaiming, "I am very proud of the work and effort I have put in to see it finally pay off."
Forsyth is a three sport athlete, earning multiple letters for volleyball, basketball, and lacrosse during her high school career. She wears #14 for volleyball and basketball, and #21 in lacrosse. Forsyth may continue playing either volleyball or lacrosse at a collegiate level at Youngstown State or Kent State.
This is Sarah's 6th year of playing volleyball for Poland.
When asked about this passing season, she states, "The season went very well, I was very happy with our record compared to past years". 
She shares that her biggest motivator for the sport is her team, as well as the opportunity to improve her own skills. When asked more about her team and her memories with them, she spoke highly of the bus rides to and from games and how close they were to her heart. 
When asked about offseason training for volleyball, Forsyth remarked "I play basketball and lacrosse. I don't have much time to play extra volleyball…"
As the Poland volleyball season reaches its end, our "Big Dog" will not be going to leave the court as her senior basketball season begins. Best of luck to Sarah Forsyth!