Poland Players prepares for spring musical, "Guys and Dolls"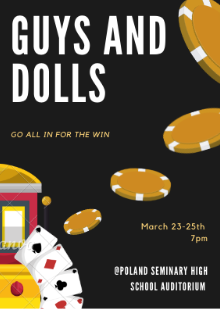 Poland Seminary High School presents its spring musical  Guys And Dolls, and for some people, this is the last play they will ever perform in for high school, and for others, this is their first.
Rapidly approaching, the school musical will be held in the auditorium of Poland Seminary High School during the dates of March 23-25 at 7pm. The lead roles include Junior George Mallis, Senior Bella Beight, Senior Owen Lu, and Senior Gia Len.
Guys and Dolls is a musical about a man who needs one thousand dollars to rent out a garage to host his gambling events. In order to gain this money, Nathan places a bet with his friend Sky Masterson. The rest of the plot revolves around this bet and includes romance as well. 
We got some of the behind the scenes emotions of a new actress and lead role from Beight.
Beight said, "I am so excited to be a lead for the musical this year! I am still shocked to this day that Mrs. Fonagy chose me to do it, but I could not be happier, and I can not wait for everyone to see it!"
She elaborated on her current preparation for the play.
Beight said, "To prepare for the play, I am learning how to act every day from the people around me who have been a part of this for way longer than I have. Also, I sing eight different songs, and my character has a special New York accent, so I am constantly practicing that."
The seniors and staff members have encouraged each other and been supportive of one another in rehearsals and preparing for the play.
Beight continued, "I went out for the play this year because I promised my castmate, Owen Lu, that I would sing with him in the musical and did not want to let him down. Also, Mrs. Fonagy encouraged me to try something new because I knew I would have regretted it if I was not a part of the Poland Players in high school."
Make sure you all come and check out this musical and support the amazing cast.