Language National Honors Society ceremony
Various students in the junior class were honored on Thursday, April 6 at the annual Language National Honor Society ceremony in the Poland Seminary High School Auditorium. These new inductees are students in their third or fourth year studying either of the languages offered at Poland, Spanish, or Italian, and they have shown academic excellence over the years. 
Senior students who joined National Honor Society during the 2022 school year returned to receive their cords for graduation, including four particular seniors who hold officer positions for the organization who officiated the ceremony: Spanish NHS President Daniel Pike, Spanish NHS Vice-President Kailyn Assion, Spanish NHS Secretary Logan Flament, and Italian NHS President Matthew Farkas.
Poland's Spanish Advisor, Señora Ramsey, and the Italian advisor, Signora DiTomasso, also helped to officiate the ceremony and kept the event running smoothly.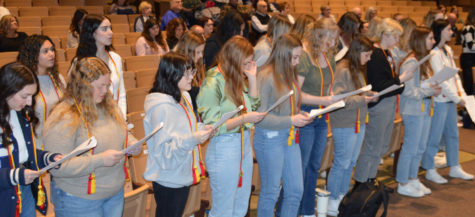 Following the ceremony, we asked the senior leaders various questions about their foreign language studies throughout their high school years:
"How does learning a language add to your overall learning experience each day?"
Logan Flament (Secretary) said, "Learning a language activates different areas of my brain that help me develop into a more well rounded student. I mainly study math, so it feels nice to change it up. Also, learning about the culture aspect of the language opens my eyes to how people around the world live differently than us."

Matthew Farkas (President) said, "It may seem weird, but learning a language helped me to learn in general. It was one of the first classes that I studied in my free time, and it showed me how to approach different hobbies that I would want to learn."

Kailyn Assion (Vice-President) said, "Learning a new language allows me to be open to new opportunities that I would not be granted without having basic knowledge of a different language. It also helps me to think about my future and how having knowledge of another language can be beneficial."
"Explain in your words why being in the NHS is important to you?"
Flament said, "My membership in Spanish NHS is symbolic of my attitude towards striving for excellence in the study of Spanish and the mindset that learning Spanish will help me communicate with 486 million more people."

Farkas said, " The Italian NHS is important to me because it allows me to be recognized for my efforts towards learning a language."

Assion said, "My role in the Spanish NHS is important to me because it allows me to develop leadership skills and the ability to form connections with those who also speak the language."
"How have you incorporated Spanish into your learning/life in the past 5 years?" 
Flament said, "Whenever I go on vacation, I love practicing my Spanish with people I encounter and seeing how much it brightens their day when someone attempts to converse with them in their native language. Also, learning Spanish helped me realize the benefits of learning other languages which led to me choosing a minor in Japanese."
"How have you incorporated Italian into your learning/life in the past 5 years?"
Farkas said, "If something is in Italian I can translate it pretty quickly and impress people. I am the first person to go for that. Otherwise, it hasn't been necessarily useful. It may in the future if I go on a trip to Italy, however!"
This ceremony was another school event that signaled students that they are heading closer and closer to the end of the school year. Regardless, inductees are held to high standards to continue performing with excellence both inside and outside the classroom, and we can see from the leaders of these clubs that foreign language has played a pivotal role in their education.