The Newest Way to See Post-High School Plans
With the school year coming to a close and the end of high school arriving for the class of 2023, one factor many students and parents look forward to is hearing where graduates plan to go after this year. One way to share these decisions, which has become quite popular within the past few years, is through Instagram. The account which posts this year's seniors holds the username "SeminarySeniors23," and has over 300 followers. 
Senior decisions are posted almost every day with a good luck wish for their future endeavors. Whether they go to college, trade school, deployment, and any other post-school plans, students send in their decision information to the account. Then, the owner of the account creates a post containing the senior's name, picture, and other information that applies to their future plans. 
Based on data from 65 students in the class of 2023, 75% of graduates will be staying in-state. A large percentage, roughly 40%, will be staying very close to home attending Youngstown State University. Seniors will be attending over 20 unique colleges or institutions following the summer. Various graduates will continue their sports careers at the collegiate level. 
There are also more than a few students taking a different direction than college. For example, one student will be pursuing their own property service business following high school. Another student plans to go on to become a firefighter in Columbus, and one has graduated early to enter into the military. 
Provided is a list of seniors playing college-level sports, and where they will be pursuing their sport:
Katie McDonald – Cleveland State University, OH – softball
Teagan McCurdy – Penn State (Shenango), PA – baseball
Mikey Gushura – Penn State (Shenango), PA – baseball
Evan Hegarty – Owens Community College, OH – baseball
Preslie Bodine – Westminster College, PA – swimming
Dominic Pagan – Baldwin Wallace University, OH – wrestling
Sarah Forsyth – Ursuline College, OH – lacrosse
Ben Harell – Taylor University, IN – lacrosse
Ariana Daniels – Slippery Rock University, PA – soccer
Noah Huda – Mercyhurst University, PA – soccer
Carson Maurer – Thiel College, PA – soccer
Aiden Davis – Thiel College, PA – soccer
Joseph Hillyer – Thiel College, PA – soccer
Derek Thomas – Thiel College, PA – soccer
Below is a visual which depicts the relative locations of institutes where students will attend college: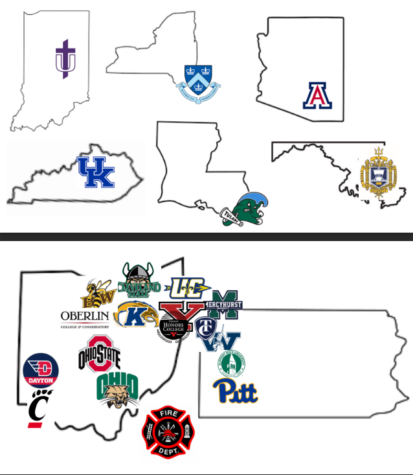 Overall, the Poland Community wishes each and every one of the students from the class of 2023 good luck in their future regardless of which direction they chose to take their lives following high school.