Senior Signing Day
On Monday, May 15, the seniors who are going to school for athletics signed to their new teams. There are 8 student athletes that got to sign to schools.
Sarah Forsyth signed to Ursuline State University for Lacrosse. She is 3rd in the state as far as the amount of goals scored per game. She scored 56 goals in the season.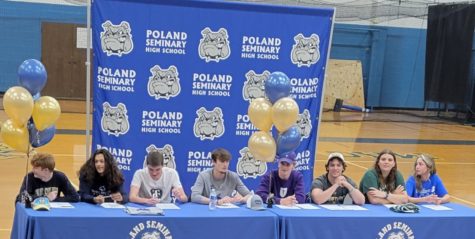 Katie McDonald signed to Cleveland State University for softball. She has won 50 games and has a ratio of 461 strike outs in 400 innings pitched. She also has a bating average over 400. 
Dominic Pagan signed to Baldwin Wallace for  wrestling. He went to states in division two and was the sectional champion this year. 
"Yeah I am excited, wrestling is my favorite sport, and wrestling in college is definitely a lot more serious," Pagan said.
Ben Harrell signed to Taylor University for lacrosse. He has 760 saves. He is also #1 in the state of Ohio in terms of saves. 
"I am excited to play with teammates who I know are going to be a good". He also said that he is looking forward to have "new experiences and start a new chapter," Harrell explained.
The four senior boys signing for soccer are all going to Thiel University. The four seniors are Derek Thomas, Joseph Hillyer, Aiden Davis, and Carson Maurer. They have all shown unbelievable talent.
Good luck to all the signees in their future endeavors.