Spring 2023 Pep Assembly
February 24th was a day full of fun for the Poland Seminary High School students with their Winter Pep Rally. Tons of students grades 7-12 participated in various events that had the school high in spirit, as well as shoutouts to the winter athletes in between events. The high school band performed songs and the 7th Grade through Varsity Cheerleading teams performed and cheered throughout the rally. 
This Pep Rally hosted four events: Hamster Ball Sumo Wrestling 1v1 Tournament, Middle School Basketball Shooting Competition, 3-Point Competition, and the annual Teachers vs Senior Student Basketball Game. 
The Economics Classes, named Village Vendors and Off-Bite, ran this Pep Rally as part of their duties in that class. Kenna Bergman, from Off- Bite, stated, "The name of the class came from a well known, popular brand that all students had known of."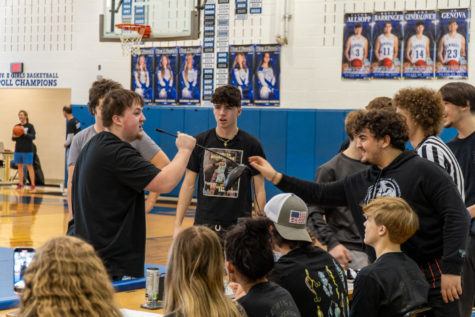 Both companies have worked hard to give the rest of the student body a fun end to their week. During class time, they had to consider what would work for the rally and what would not be best. 
Morgan Bailey of Off-Bite shares, "We all collectively brought up different ideas and the original traditions and decided to do a mix of those." 
Ben Harrell of Village Vendors also adds that "running and facilitating the pep assembly" also comes into consideration while planning. 
Additionally, one representative from each company worked M.C. for the event, Village Vendors electing Luke Generalovich and Off-Bite having Zac Greenawalt work the mic. 
Numerous members of each class shared their excitement towards, both prepping the Pep Rally and getting to experience their final Pep Rally. 
Overall, the hours leading up to the event on Friday had the student body eager for the events to come. 
Now, moving forward post-rally, both classes are shifting their efforts towards designing new clothing items and promoting advertisement towards their own class. These companies will be releasing product lines within the next few weeks that will be available to order for Poland residents of all ages.