Girls Golf Team to State
The girls golf team competed in The Ohio High School District Tournament last Tuesday, October 4 at Hills and Dales Golf Course in Canton, Ohio. At the tournament, Poland took third place to qualify for the state tournament, which will be on Friday, October 14.
The top scorers on the team who helped advance were Senior Gina Ungaro 96, Sophomore Jenna Jacobson shooting an 94, Sophomore Marlie McConnell 95, Sophomore Elena Cammack 102, and Freshman Carly Ungaro.
The team members were excited about their advancement.
Cammack said, "I'm excited that we get to go as a team."
Other team members noted their surprise.
Jacobson said, "It was very unexpected. We were all in shock that we made it. We thought we had a slim chance of making it."
The team is practicing for the upcoming tournament and anticipating great results.
Jacobson said, "We've been practicing a lot , and I think we're ready."
The state tournament will take place at The Ohio State University Gray Course in Columbus, Ohio. This is the fifth time the girls golf team has been to Columbus since the program has been started.
Jacobson said, "We're finally starting to come around again. The last time we went to state was five years ago."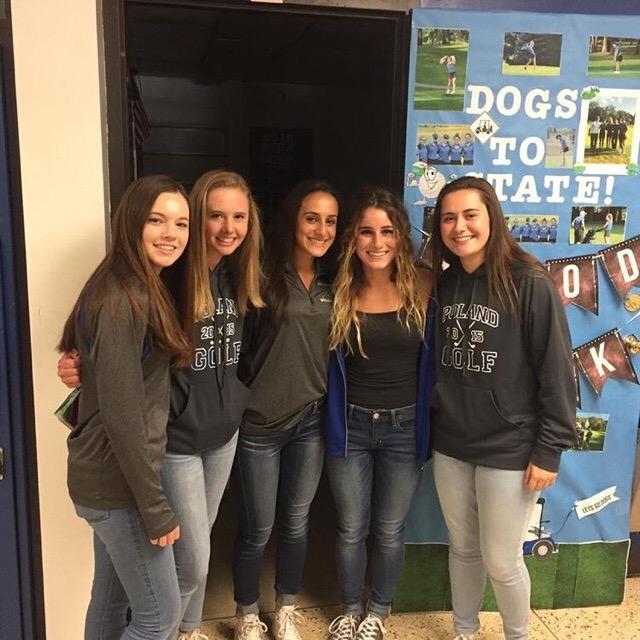 The coach is optimistic about the upcoming tournament and voiced a positive message for the team.
Coach Joe Colella said, "I want to emphasize to the team to believe in themselves and to never quit."