1972 PSHS Graduate Colonel Norbert Diaz Leads Veteran's Day Assembly
On Friday, November 10, 2017, Norbert Diaz, an American Veteran who was an active duty and Judge Advocate for the United States Air Force, traveled to Poland to speak at the high school's annual Veteran's Day Assembly, and he gave a moving speech to students about his experience and about Veteran's Day.
Colonel Diaz spoke about his time in the military and the importance of Veteran's Day.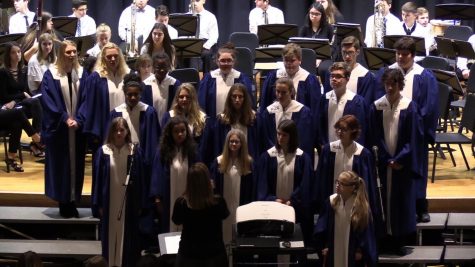 The PSHS Choir sang patriotic music, following his speech.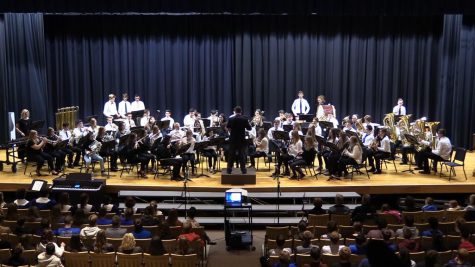 The band concluded the assembly with the playing of US Armed Service Songs from each military branch. There were veterans in the audience who attended. Also, students were asked to stand during the playing of each song if they had family ties to that particular military branch.
After the presentation, Colonel Diaz shared some personal and insightful details about his life to The Seminarian.
Colonel Diaz was not sure what he wanted to do after high school. While at YSU, a professor, who formerly worked with the FBI,  talked to him about becoming a lawyer for the FBI, and he was instantly interested.
He attended law school with the intent of eventually working for the FBI. However, one day, while at law school, the military came in and talked about their need for military lawyers, and the representatives even promised him work within a few short months.
After law school, Colonel Diaz attended the military specifically for law training, which lasted roughly three months and then started practicing law for the military. He became a criminal defense attorney, and this job required him to travel quite often. Most of the time, however, he was lucky enough to be able to live on a base with his family, and they traveled with him.
Colonel Diaz explained he had "to move his family twenty three times in his forty years of marriage."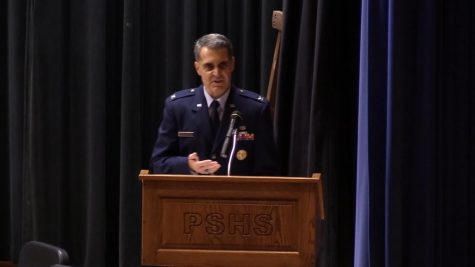 The hardest part of the job came later in his life. He had to leave his family for a year two times, once when his oldest daughter was a senior, and the second time was during his youngest daughter's senior year.
Diaz said that he remembered the Air Force's core values, "Integrity first, service before self, and excellence in all we do," to keep him going. These words were a reminder of why he was sacrificing time with his family in order to serve his country.
Overall, Colonel Diaz enjoyed his time as a criminal defense attorney, despite the hardships.
He said that he feels growing up on a military base gave his kids a Leave It To Beaver environment. Meaning, he felt his kids were constantly safe and protected while on base and couldn't picture raising them anywhere else.
"
He remembered the Air Force's core values, 'Integrity first, service before self, and excellence in all we do,' to keep him going."
— Colonel Diaz
In fact, one of his daughters became a military midwife and specializes in delivering babies for military families.
Colonel Diaz said that the best advice he could give anyone considering joining the military is to do your research, and definitely look into it.
Currently, Colonel Diaz is an NH4, which he explained is the equivalent of a colonel for civilians. He is extremely honored to be a part of the U.S military and is honored to be considered a veteran. He plans on serving his country anyway he can, for as long as he can.
Norbert Diaz is an American veteran who was an active duty Judge Advocate for the United States Air Force. He also served in the missile defense agency, defense counsel, trial counsel, executive officer, legislative liaison officer, and an acquisition attorney.  He was born in Youngstown, Ohio and attended Poland Seminary High School. After this, he earned his Bachelor of Science from Youngstown State University. He also attended Cleveland-Marshall College of Law, Squadron Officer School, George Washington University, Air Command and Staff College, and Air War College.
He is married to Claudia J. (Rafferty) Diaz, and they have three daughters.
He completed three bar admissions; these are the of the Supreme Court of Ohio, U.S. District Court for the Northeastern District of Ohio, and the United States Court of Appeals for the Armed Forces.
Despite his many impressive accomplishments, Colonel Norbert Diaz remains humble and is honored to have served his country.