Poland Art Club Officers Paint a Mural in Poland Woods
Officers Senior Hannah Blake, President; Senior Lauren Burt, Vice President, and Junior Lindsay DeLullo, Treasurer were tasked with the exciting project of painting an exact picture, free hand, with a little help from their art teacher, Mrs. Holub, for the Poland Woods. Mr. Rumberg from the Poland Woods Committee supplied the the picture to be painted on a building in the Poland Woods.
When asked to help with the project by Mrs. Holub, all replied with a definite "yes," including DeLullo's response of "[She] wanted to help [Blake and Burt], and [she] really like(s) to do art, so why not?"
The entire painting itself took about three days; an hour each day to complete, and they believe that it should last a long while because of the paint they used.
The Poland Woods Committee asked them to paint the exact logo to match the sign out front, on the white bathroom building.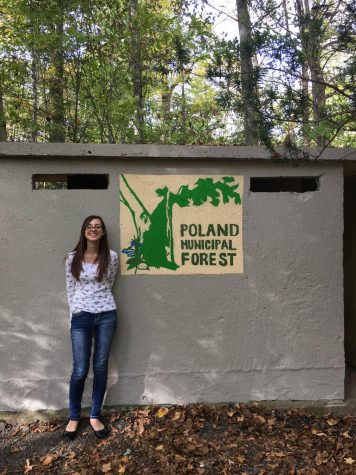 Holub said the committee wanted to do this because they were "trying to spruce up the park."
The logo was created by a professional graphic designer that the committee hired.
"It was fun," said Blake and DeLullo.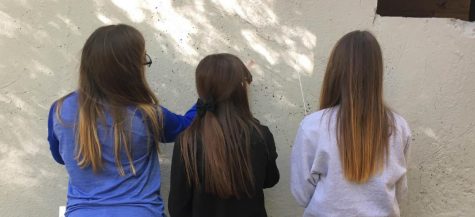 Mrs. Holub agreed and said, "It was so beautiful just to be out there with the kids."
With the fall weather turning the leaves and the weather still bearable, it is a beautiful time to go take a look.
DeLullo said, "[She] would like [you] to check it out!"
In the future, they are planning to make another, bigger, mural with the Mahoning County Dog Pound.