Movies from Home?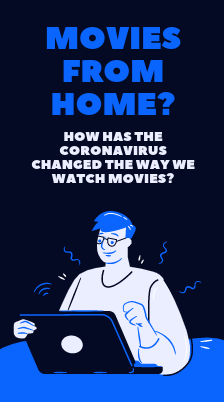 Everyone has a great experience at the movies. Don't you remember the time you sat in the movie theater, completely blown away by what you were watching? So many memories were formed in those theaters, especially for teenagers. However, the Covid-19 pandemic has completely altered how we go to get our entertainment. How has it changed? Will people ever get the same experience from a movie again? In this article, we asked students at Poland Seminary High School about how their experiences with movies have changed in the last year. 
Meredith Trevis, a sophomore at Poland, had this to say about her experience: "Since Covid I have watched more movies online through Netflix or Disney+. I don't have a preference, but I do miss the movie theaters with my friends occasionally." 
When asked if she thought it was time to reopen movie theaters, Trevis was cautious, yet ready. 
She said, "I think movie theaters can reopen, but still masks and social distancing would have to be required." 
As reflected here, streaming platforms have become especially popular in a time where everyone is encouraged to stay home. This feature is uniquely new to this generation, and some believe it is going to become increasingly more prevalent with or without the coronavirus. 
Sharing that belief is Kaden Arnold, a senior at Poland High School. 
Arnold said, "People are going to get lazy and rather stay home and buy the movie as opposed to going out and seeing it on the big screen." 
When discussing the future of entertainment, Arnold was certain about the silver screen's future, but added movie theaters should be open for those who prefer it. 
Arnold noted, "…just make sure people don't sit right next to each other." 
The common consensus at Poland was that it was safe to reopen theaters so long as there are new restrictions in place. 
Another sophomore named Mara Blanco compared it to stores and restaurants, mentioning that the same rules those places have should apply to theaters. 
The verdict is out, it is time to reopen movie theaters. 
However, the question still remains… Will it ever be the same again? Will it ever have that same magic as it did before this virus? And finally, will it be stomped out for a "at home" viewing? 
As this generation of kids marches away from theaters, it's possible that with or without this virus movie theaters may be doomed.